Franklin Town Hall's
"Grand Drape" historic stage curtain
Grand Drape-balcony scene with stone balustrade overlooking a lake, mountains, "Dutch" windmill, cabin, and stone walkway.
VERMONT

'S PAINTED THEATER CURTAINS
A Project of The Vermont Museum & Gallery Alliance, Woodstock, VT
Christine Hadsel, Project Director
429 South Willard Street, Burlington, VT 05401
Phone: (802) 863-4938 Fax: (802) 864-7982
Location: Franklin Town Hall Address: 5336 Main Street, Franklin, Vermont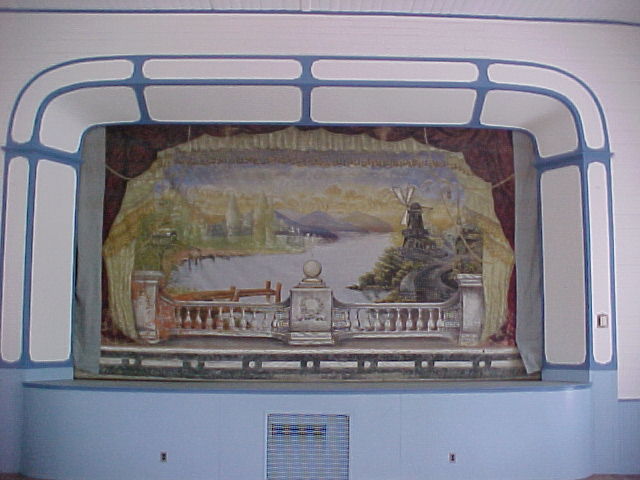 Date of Initial Survey: 3/4/04 Surveyors: C. Hadsel, S. Fredericks
Description of Curtain: Grand Drape-balcony scene with stone balustrade overlooking a lake, mountains, "Dutch" windmill, cabin, stone walkway
Artist: Ray Hefflon, unsigned (see historical notes in town history)
Overall Dimensions: 20' x est. 12'
Date of Manufacture: Before 1927
Place of Manufacture: Probably locally
Inscriptions: In pencil, on the water between posts, to the right of central upright, "Charles W. Gates Franklin 1904" (a Vt Governor from Franklin)
Location: On Stage
Use of Building: Town Hall, community activities
Use/Condition of Stage: Clean, newly painted
Overall Condition: Fair; unstable paint layers, previous treatment concerns, large tears and loss
Primary Support (Fabric):
Number of Panels: 2 horizontal
Dimensions of Panels: 68" each
Fiber: cotton muslin
Overall Condition of Fabric: Thin, creased, large tears at top
Previous Repairs: Machine sewed backing along upper and lower 2' on reverse; 2 horizontal panels along side edges, approx. 18" wide, machine sewn on front; various tape repairs from reverse
Condition Notes:
Top Edge: Substantial taking margin has been sandwiched between wood and wall, using nails; secured by sewn backing; 2 large jagged tears with paint and fiber loss, est. 12" vertically (L and T shaped), extra machine sewing was used in these areas, these tear areas may be glued down or taped (not visible with backing in place)
Side Edges: Covered by reinforcement fabric on the front but appear stable from reverse; one tear on the upper left (reverse), tape repair on a small tear on middle, left (reverse); edges are folded and sewn securely with narrow hem
Bottom Edge: Tacked onto roller; large horizontal tears in faux marble balustrade base, 5'(+) on the lower left, mended with electrical or duct tape (and glued down possibly as well)
Stains: Dark oil-like spots visible on the reverse left and lower right
Other: Some of the damage is probably obscured by backings and front reinforcement fabric
Secondary Support (Framework):
Roller: Warped and broken
Top Support: Wood strip nailed to the back of proscenium with canvas sandwiched in between. Method of attachment to the roller and top support: Attached to bottom roller with tacks; nails used on a top sandwich
Pulleys and Ropes: Pulleys intact with rope running over the top mount, then fed through the left block; ropes tied to the beam, no cleat
Overall Condition of Secondary Support: Unrolls and rerolls with difficulty, needs a cleat
Media:
Ground/Paint/Varnish/Layers (Description/Condition):
Underpaint layers of thin distemper wash in reds, orange, pink, and yellow, probably used for blocking—well adhered
Paint Layer
Medium- distemper
Thickness- relatively thick with some light impasto in lighter colors of trees and sky
Overall Condition: Serious loss of paint and actively flaking paint concerns
Mechanical Damage—some punctures and losses due to creases; extensive paint loss at the top two tears and long horizontal ones at the bottom left
Abrasion-extensive on sides and lower edge
Insecure Paint-Greatest concern is actively flaking paint which is brittle and cleaving, particularly in the left balustrade, right curtain, and central tree area
Accretions-a few black ones in the water and sky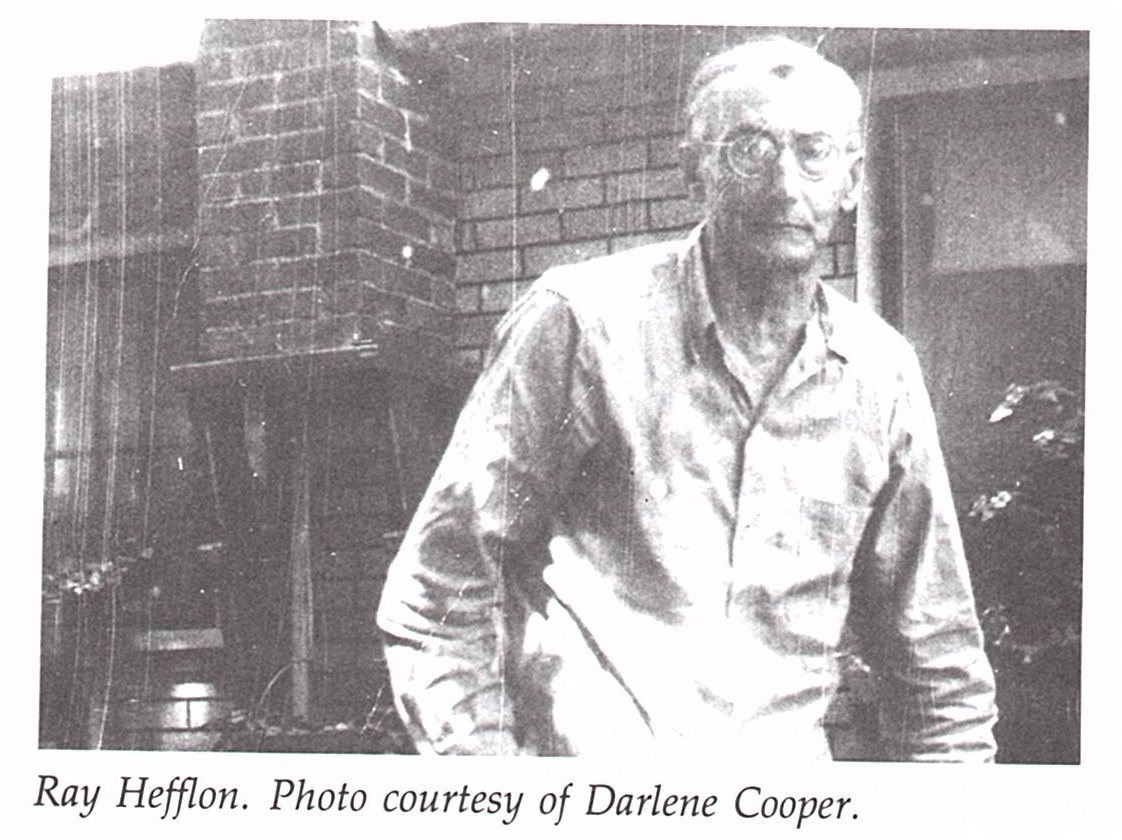 Water Damage-some minor water damage stains visible on the left balcony floor
Previous Repairs: See above about reinforcement backing and side fabric
Overall Condition of Media: Unstable in large areas with extensive actively flaking paint concerns and possible problematic glue/tape removal issues
Iconography: Fantasy landscape with a windmill. There is some confusion about the date of the curtain because the hall was renovated and the stage added in 1929, but Charles Gates, the person who signed the curtain, died in 1927. Gates was governor of Vermont at an earlier time. Town historical society has information about the artist
Stabilization Proposal and Notes by Suki Fredericks
Pre-Treatment Photos
1. Overall Front
Lower left corner

Lower right corner

Central motif

Side view

Reverse back lit
Pre-Treatment Solvent Testing
Color white dk.red orange lt.org black green yellow
Water VS VS VS VS VS VS VS

Acetone NS NS NS SS SS NS NS
Ethanol NS NS NS SS SS SS SS
Naphtha NS SS NS SS SS SS SS
Xylene NS SS SS SS SS SS SS
Use of Adhesives: No testing yet, but will need to be tested for adherence strength, darkening, and practical applicability if consolidation will be included in treatment.
Project Scope
Reduce surface soiling and disfiguring stains.

Stabilize primary support (fabric) through the mending of rips and tears and compensate for large losses through the insertion of similar fabric. Stabilize raw and damaged edges to prevent vertical or horizontal rips.

Minimal consolidation of paint layer when loss of media is localized and urgent.

Minimal in-painting and toning of fill and stains or to improve aesthetics.

Prepare curtain for installation or safe storage.
Treatment Proposal:
Note: This curtain will be consolidated by Kate Smith, a painting conservator from the Fogg Museum, Harvard University, due to the paint loss in the left half of the curtain.
Area in need of consolidation>>

1. Reduce surface dirt and soiling by vacuuming entire front and reverse of curtain, and dry erasing front painted surface. Fragile areas in the paint film may be too unstable to initially permit vacuuming or dry erasing.
2. Remove top and bottom sewn panels and front side coverings (with care taken not to remove hemming along side edges). Remove tape repairs.
3. Consolidate large areas of flaking paint, if possible.
4. Stabilize raw edges at top and bottom edges as needed, to prevent vertical or horizontal rips.
5. Prepare top wooden support with muslin/Velcro strips for ease of reinstallation and emergency removal.
6. Bottom edge wooden roller to be replaced with padded, lightweight drainpipe roller. Curtain will be attached to this bottom roller with Velcro/muslin strip.
7. Repair many rips and tears throughout, with appropriate support materials. Reinforce previous machine stitching lines in areas where panels were removed, if necessary to stabilize fibers.
8. Selectively tone mended areas using appropriate paints.
9. Reinstall with local assistance.
Installation Notes (concerns and need for materials):
Top Sandwich removal/installation concerns:
Reuse if possible.
Bottom Roller reuse/replacement/concerns:
Repair roller if possible, otherwise install new, padded drainpipe roller.
Ropes and Pulleys reuse/replacement/concerns:
Needs a cleat, new ropes and a lock.
Environmental Concerns:
Building/Room is heated --yes
Light: A lot of daylight from large windows; should be kept rolled to reduce fading.
Temperature/Humidity: No humidity control at this time
Presence of Pests/Bugs: Area should be kept free of excessive fly population.
Note: There is persistent damp throughout the building that will lead to mold and air quality problems if a remedy is not found. The project director and conservator have discussed the problem with the town clerk and suggested ventilation in the basement and/or fans. Windows cannot be opened in the main hall because of heavy storm windows.
Treatment Report: Michele Pagan, Textile Conservator, May 15, 2006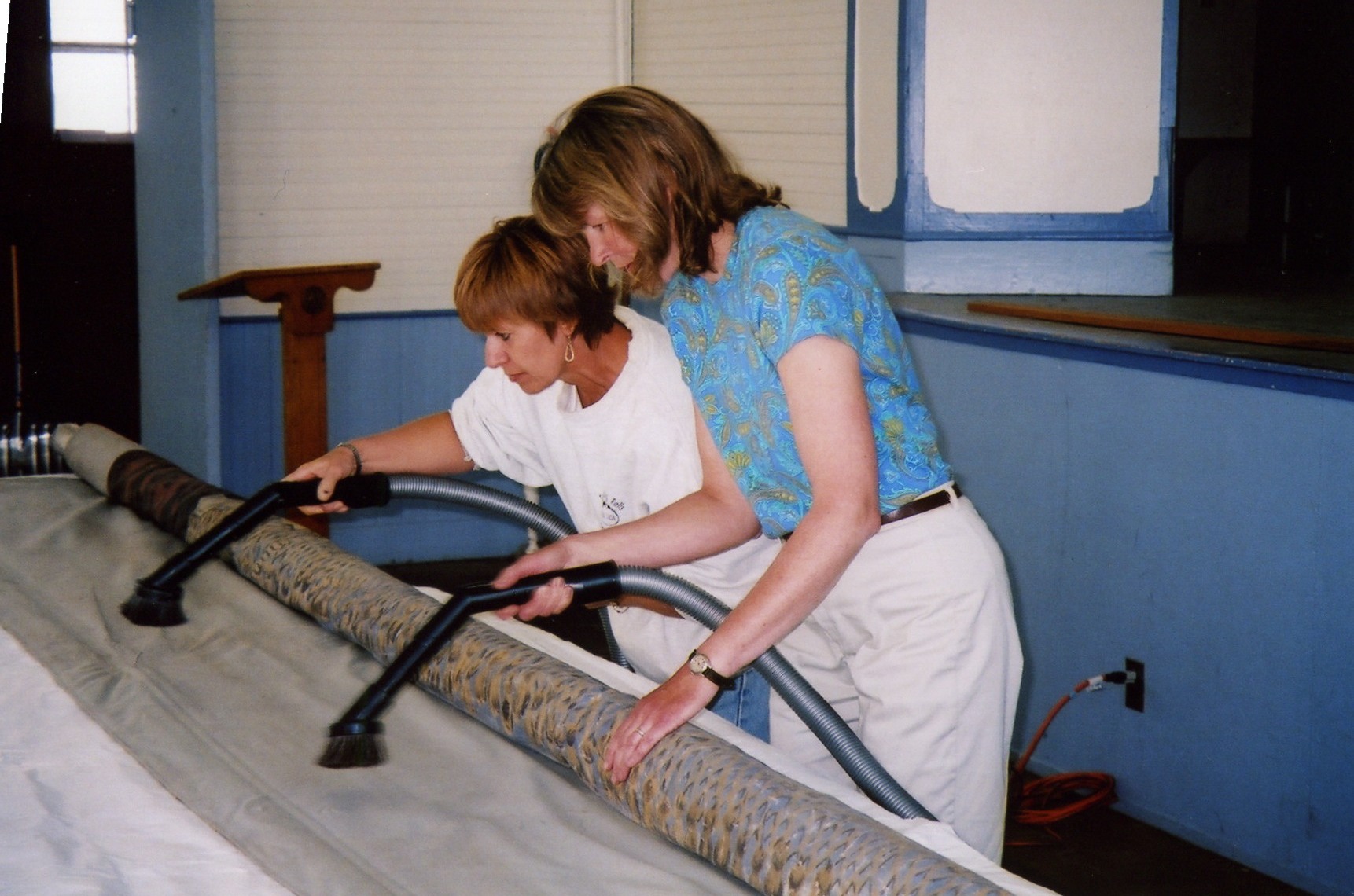 Reduced surface dirt and soiling by vacuuming entire front and reverse of curtain. Very little dry erasing of front painted surface, due to fragility of paint layer. The left section of the curtain, other than the drapery, was left alone.
2. Removed top and bottom facing panels and front side edge fabric coverings
NOTE: once these facings were removed from the obverse of the curtain, the paint colors beneath were seen to be much brighter – less faded.
The side edges, while very abraded from use, had been protected from light fading by the application of these panels.
Machine stitching lines in areas where panels were removed were reinforced by the addition of cotton/ Beva adhesive strips on the curtain reverse, to strengthen these areas.
Also removed previous adhesive tape repairs from reverse of curtain.
3. Stabilized raw top curtain edge by application of muslin/Beva adhesive band to the reverse edge;
- the bottom edge was prepared with a new quilted muslin strip, which was attached to the reverse-bottom edge of the curtain by use of Beva adhesive;
- the opposite edge of the quilting was hand-stapled to the original wooden roller, which had been reinforced with screws and wrapped with Duct-Tape for additional dimensional stability and strength.
- strip lined both side edges of the curtain with 100% polyester and Beva adhesive to improve the stability overall.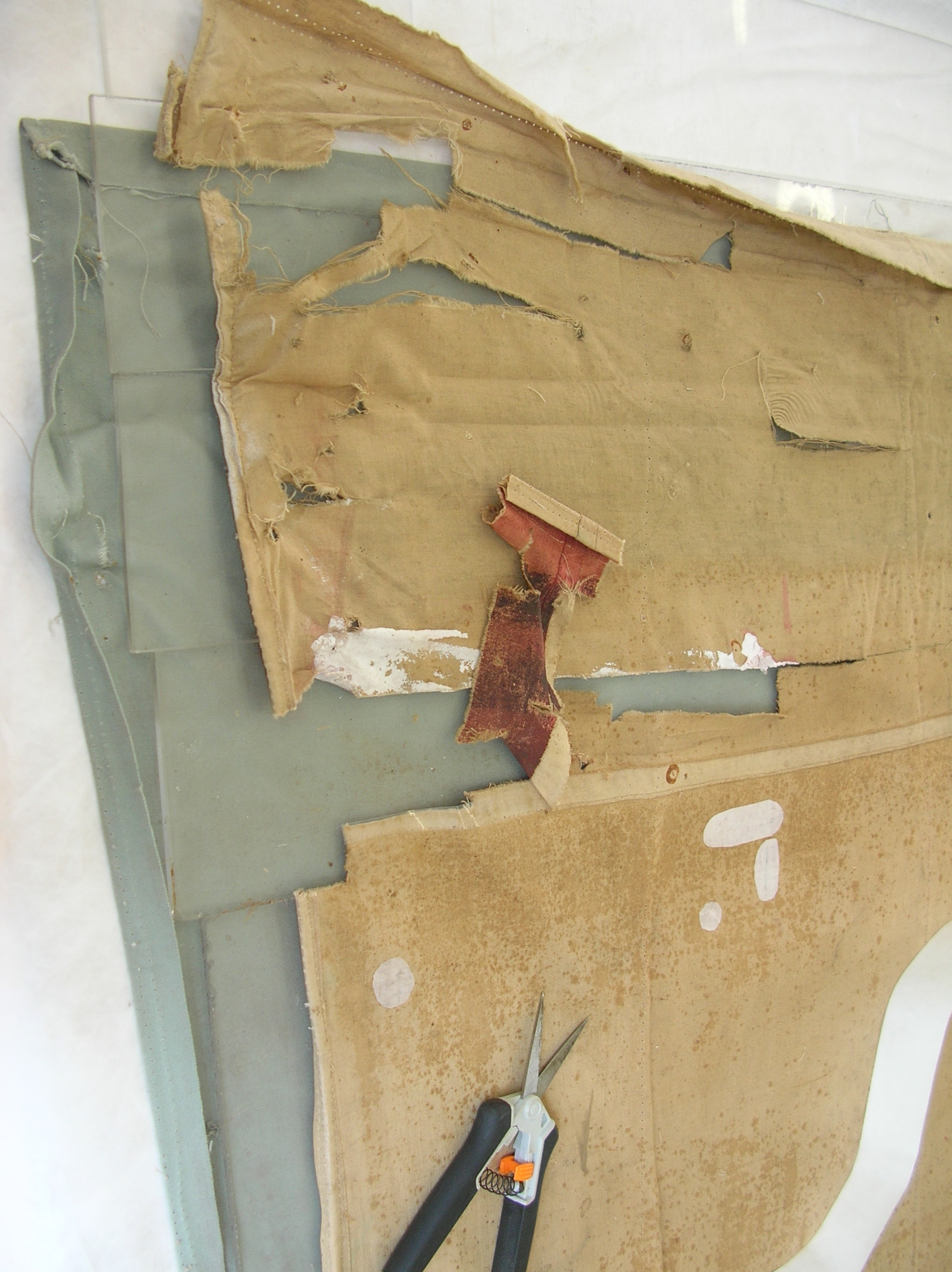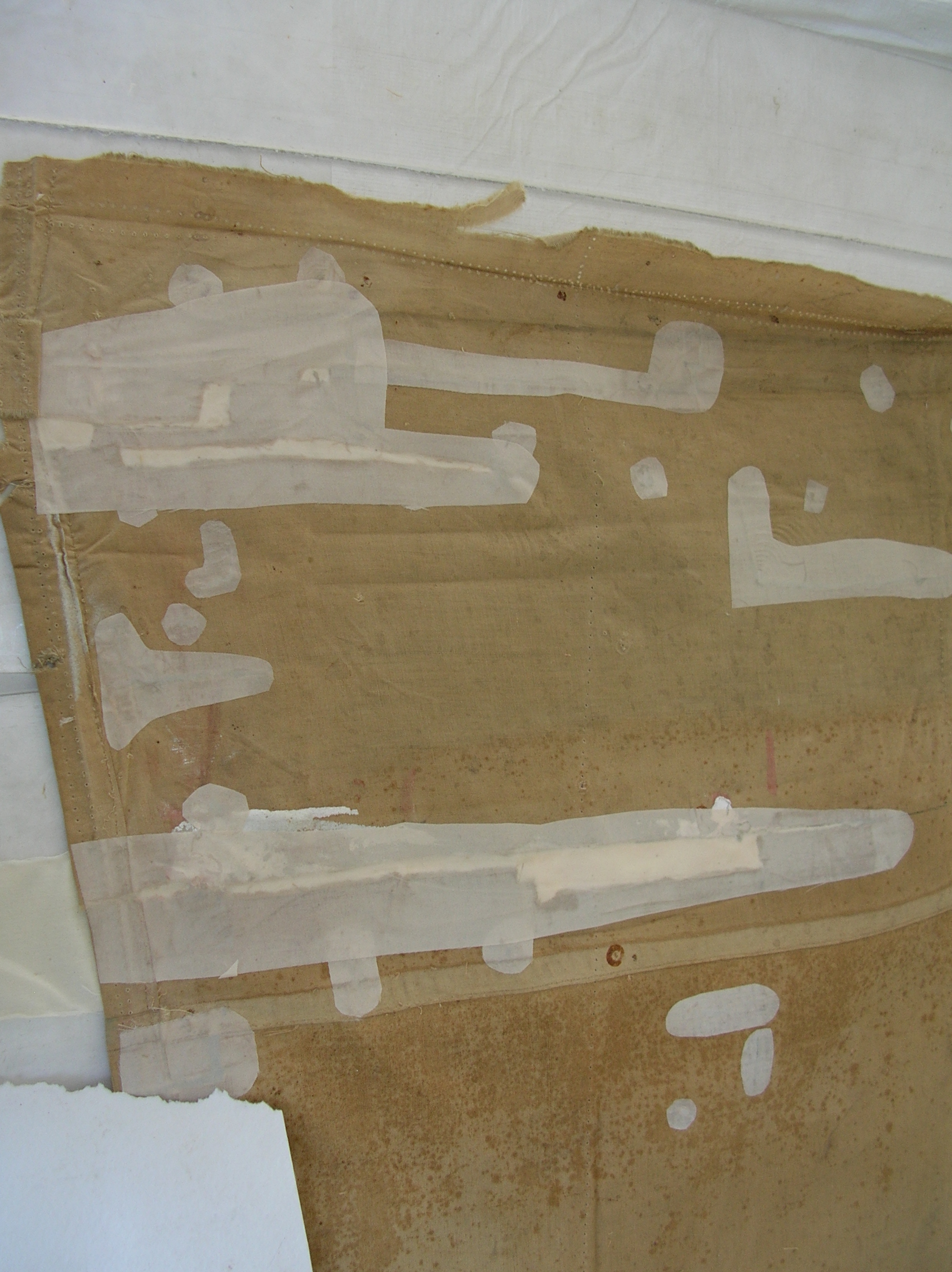 4. Prepared a new top wooden support with Velcro strip for ease of reinstallation and emergency removal.
5. Repaired many rips and tears throughout with cotton muslin/ Beva adhesive support materials.
6. Reinstalled with local assistance using new ropes and a new cleat.
.
.
.
.
.
.
.
.
.
.
.
---
Paint Consolidation, May 16, 2006
Conservator: Kate Smith, Fogg Museum, Harvard University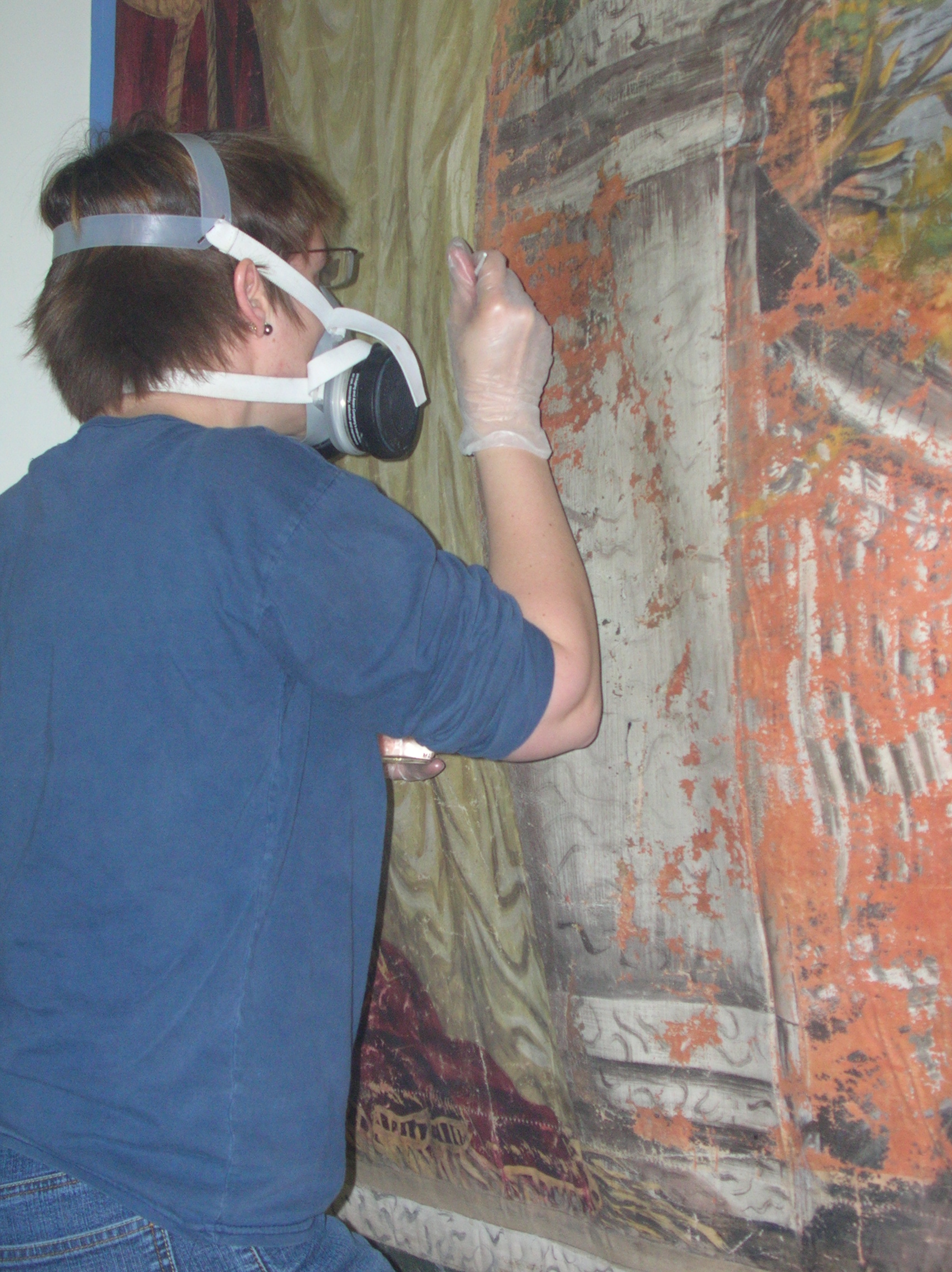 Although the major area of loss is in the left portion of the curtain, the entire curtain was sprayed using a tall ladder placed on the stage. This approach was agreed upon because it would provide consistency overall. The solution used was 4% w/v B-72 in xylenes. A high volume-low pressure spray gun and compressor was borrowed for trial use. There were extra passes on the left portion of the curtain that was powdery and flaking. In addition, the same weak area was sprayed from the back side.
Brown paper was laid on the stage to minimize possible damage from residue. In fact, very little residue was deposited. Several large fans were placed in open doorways.
The ladder was used for in-painting once the second application was dry and fumes were dispersed.
The conservator felt that the spray applications were successful in reducing the powdery nature of the paint and increasing the adhesion of the flaking paint.
In-Painting, Suki Fredericks, Conservator. May, 2006
Using Flashe paints, minimal in-painting was done overall, with special attention to the balustrade and greenery on the left section of the curtain. There is still some minor flaking, but the overall fragility of the paint has been reduced through consolidation.
---
Curtain exhibit in the Town Hall
The town of Franklin is privileged to have a valuable historic artifact, in the form of its Grand Drape, the Painted Theater Curtain, created by Ray "Bubby" Hefflon. Due to the age of the curtain and its fragile nature, the curtain is kept rolled up. This is best for the curtain but is unfortunate because people don't get to enjoy it. With this in mind, in 2017 the Franklin Historical Society decided to develop this exhibit for the enjoyment of all.