Franklin's Haston Library
This Library Building Was Bequeathed
To the Town of Franklin By
Elvira S. Haston
1816-1906
As a Permanent Reminder of the Affectionate Regard She Cherished For the Home of this Fact, This Tablet is Erected 1907.
So reads the bronze Tablet in the main entry of the Haston Library.
One of Two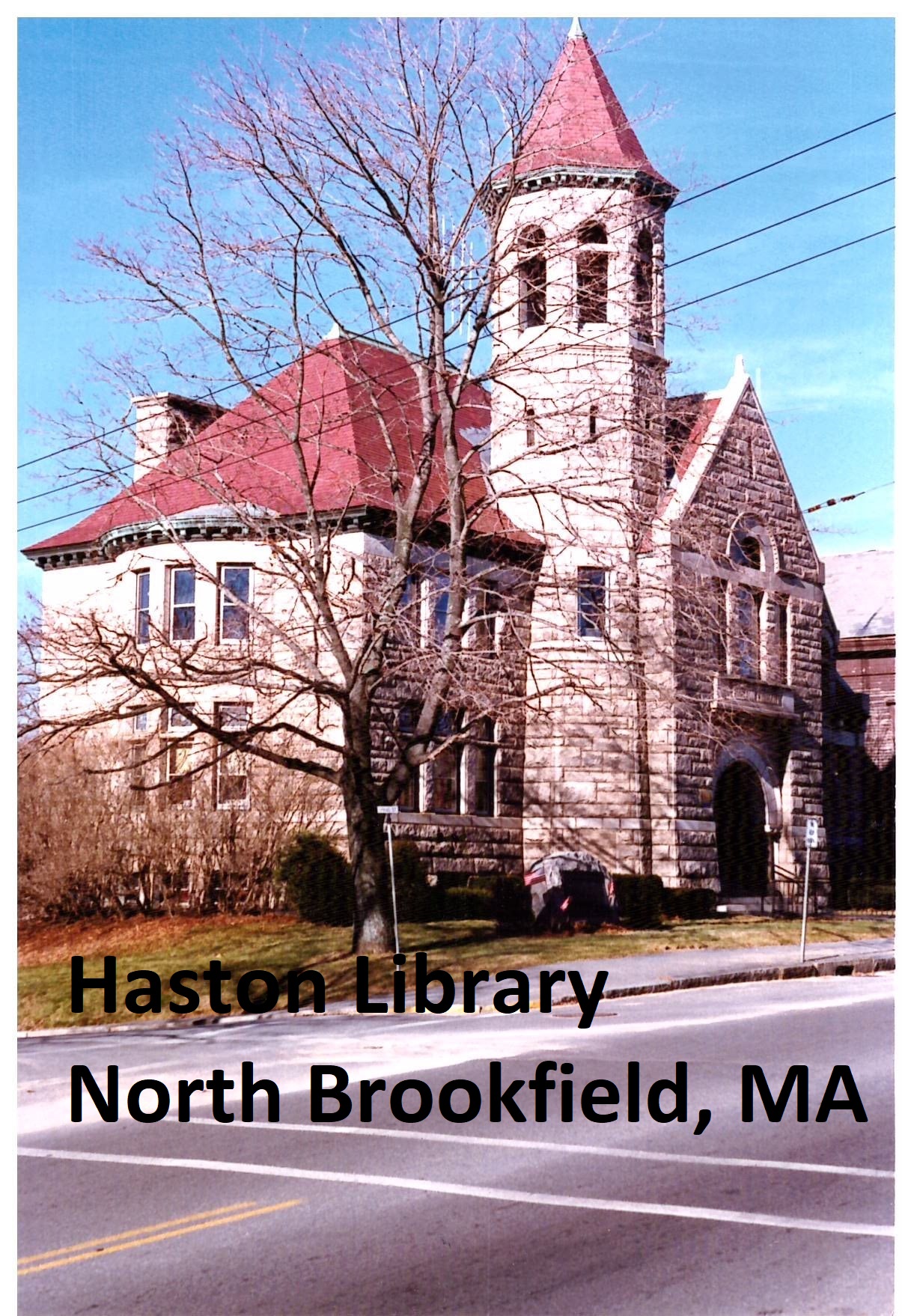 Elvira Shedd Haston died in North Brookfield, Massachusetts on December 10, 1906. Incidentally, North Brookfield also was bequeathed a library that bears the name Haston Free Library and is of the same design. In her will, she left $12,297.16, including interest, to the Town of Franklin to build a public library. As a stipulation in her will, Charles W. Gates of Franklin, if he were living at the time, was to supervise and control the building of this library.
At a special town meeting on March 18, 1907, the town accepted the bequest and C.W. Gates was the Agent for the building fund. William J. Powell and Arlin D. Horskin were elected to be on the building committee. The site of the Haston Library was purchased in May 1907, from Dr. J.B. Hall.
Click here
Early Years
On October 17, 1908, a special town meeting was held to discharge the building committee. They had spent $10,880. The remaining $1,616.00 was invested with the interest given to the trustees as support to purchase books and periodicals. At this same time, a motion was passed that the town be responsible for the maintenance and upkeep of the library and the salary of the librarian.
The Haston Library was originally built to house the Customs Inspector in the basement; a Reading Room, Selectman's Room, and Children's room (one and the same) and Town Clerk's Office on the first floor. The third floor was designated as the Historical Room. The latter was never used in an official capacity and basically was a storage area for many years.
Renovation
In September of 1984, the third floor (originally designed for a historical room) was officially opened as the Children's Room. The major renovation of the room was funded by Mr. & Mrs. Ross Clark. With the addition of the new space, the Haston Library began an extensive program of children's services.
Today
The Haston now offers educational presentations, discount passes, equipment that can be checked out such as snowshoes and a telescope, and links to genealogical sites, online libraries, online courses, and other online services. The Haston also has public-use computers. Haston Library was recently featured in an interview presented on Public Access Television, which can be seen at http://50.212.101.74/CablecastPublicSite/show/15085?channel=1